Adriana Francesca Lima (born June 12, 1981) is a Brazilian model, best known as a Victoria's Secret Angel since 2000, and as a spokesmodel for Maybelline cosmetics from 2003 to 2009. At age 15, Lima finished first in Ford's "Supermodel of Brazil" competition, and took second place the following year in the Ford "Supermodel of the World" competition before signing with Elite Model Management in New York City.
Lima is probably best known for her work with Victoria's Secret. Her first fashion show for the company came in 1999, and since being contracted as an Angel in 2000, she has appeared on subsequent shows ever since, opening the show in 2003, 2007, 2008, and 2010. Lima has appeared on several television ads for the brand, including the praised and criticized

"Angel in Venice" commercial of 2003 with Bob Dylan and her solo Victoria's Secret's

Super Bowl XLII

ad, the single most-seen ad of the game, watched by 103.7 million viewers.

2008 continued for Lima with hosting the

What Is Sexy?

program for the E! Entertainment Network and a July tour for the BioFit Uplift Bra launch, with stops in

Long Island

,

Boston

, and

Miami Beach

. She was also featured in November's Miracle Bra relaunch.

Topping the year off, Lima wore the "

Fantasy Bra

" for the 2008 Victoria's Secret Fashion Show. The bra, created by American jewelry designer

Martin Katz

, was set with 3,575 black diamonds, 117 certified 1 carat (200 mg) white round diamonds, 34 rubies, and two black diamond drops totaling 100 carats (20 g). Valued at over $5 million, the bra carried more than 1,500 carats (300 g).

In 2009, Lima launched the company's new makeup line, "

Christian Siriano

for VS Makeup."
In addition to her native Portuguese, Lima speaks English, French, and a bit of Italian and Spanish. Lima was shy around boys when she was younger, not receiving her first kiss until she was 17 years old. Afterwards, the boy went directly to her mother to ask if he could marry her.

She is a devout

Catholic

who attends church every Sunday.

In April 2006, she told

GQ

that she was a

virgin

. "Sex is for after

marriage

," she explained. "They [men] have to respect that this is my choice. If there's no respect, that means they don't want me."

Characterizing her religious roots, she is known for taking a

Bible

backstage to read.
She has been romantically linked to musician/singer Lenny Kravitz and Prince Wenzeslaus of Liechtenstein.

In November 2007, it was confirmed that Lima was dating

Serbian

basketball player

Marko Jarić

.

Originally, the couple planned on a large wedding in Salvador, set to place in June 2009. Eventually, they eloped in a private civil ceremony in

Jackson Hole, Wyoming

on

St. Valentine's Day

in February 2009,

with plans for two separate weddings in their respective hometowns at the end of 2009.

In May 2009, it was reported that Lima applied for Serbian citizenship.

Shortly thereafter, she announced that she was pregnant and expecting her first child around

Thanksgiving.

The couple's daughter, Valentina Lima Jarić (

Serbian

:

Валентина Лима Јарић

), was born on November 15, 2009. Valentina was born at 34 weeks gestation, weighing just 4.4 lb (2.0 kg), due to Lima's suffering from

preeclampsia

.
Adriana Lima: most men favorite Virgin????
She shows up precisely on time—for breakfast. At ten o'clock on a Saturday morning. In Midtown Manhattan. (This alone tells us she is not your average supermodel.) But wait. Adriana Lima, the Brazilian beauty, the ninety-seventh highest-paid famous person in the world according to Forbes, the reason our nephews spank away to Victoria's Secret catalogs, has plenty of surprises. (Unfortunately, no surprises about her famous ex-boyfriends: We are told ahead of time that any questions about Lenny Kravitz, the model-collecting rocker with whom she was allegedly involved, are "off-limits." Ditto for Derek Jeter.) But did we mention she's a virgin? Hey, that's her story—and she's stickin' to it.
Um, my age, I'm gonna leave, like, free for everybody to think about. I'm gonna leave it a secret, so when I get old, nobody will know.
Did you always plan on being a supermodel?
When I started, I was too young to know what I wanted. But today I would like to be a doctor. I want to be a pediatry…how do you call it, pediatrician?
Yeah. Pediatrician. So you like kids?
Not really. Depends. If they act well behaved, yes. When they start screaming, I don't like them. But this is my plan. I might change my mind. For now, God has given me a lot of work.
I take it you're religious?
Yes! I am Catholic. [she pulls out the cardboard scapular hanging around her neck, under her big gray sweater]
Wow. A scapular. Do you go to church?
Is there anything in the teachings of the Catholic Church that you don't agree with?
What do you mean, pro-life?
How do you feel about abortion?
Okay, so let's get started. You know the theme of this issue, right? Love, Sex, and
Madness—
Uh-huh. Yes. God.
Which category do you want to talk about first?
I figured. Okay. Have you been in love a lot?
No! I believe love just happens once. You can be mistaken, you can think you are in love, but after a while you discover that you're really not. Real love is different.
Of course! I'm a Catholic.
Look, I'm Catholic, too, but there's a lot of things about the church that make it hard to date within its rules, don't you think?
Birth control, premarital sex…
Well, you know, sex is just for after marriage.
Sex is for after marriage.
Are you saying you're not going to have sex before marriage?
You mean you've never had sex?
That's why I have to say.
How do men respond to the fact that you plan to, you know, wait?
I don't care. They have to respect that this is my choice. If there's no respect, that means they don't want me.
Who was your first boyfriend?
I have just three boyfriends in my life.
And this is the third one now.
Did you ever have your heart broken?
Noooo. They did not dump me. But… It just did not worked. It did not work. You know?
No, not depressed. I don't have depression.
You didn't crawl into bed for a week and cry your eyes out?
Well, I felt sad, you know, but what am I gonna do? What's crying and crawling and locking myself in gonna do for me? Nothing.
So except for the man you're so in love with, who is your idea of a really hot guy?
I can't look at another guy! I can't. I swear. I'm blocked. I cannot look.
But how do guys—when you're out and you're at a club or a restaurant or an event, how do guys approach—
Don't approach me.
No, I say: Do not.
I know you don't sleep with anyone, but just for the sake of argument: Who would you rather sleep with, Bush or Clinton?
Ohmigod. They're too old for me!
Any other thoughts about sex?
I'm not very experienced, okay?
I guess we don't have much to talk about, sexwise?
And is all of you natural?
No, it's all fake. From my hair to my toes to my nails. Everything's fake. Everything! Even my heart is fake.
Okay, got it. But if you could improve one thing about yourself, what would it be?
Patience. I'm very impatient. I like everything now. I want it all now.
I'm talking about work.
MARRIAGE
Victoria's Secret model Adriana Lima is expecting her first child with her NBA hubby Marko Jaric!
Lima is reportedly 3 months pregnant and according to People magazine, the couple is "overjoyed" about the baby news.
"Adriana and Marko are overjoyed that they are expecting their first child together and are excited to share the happy news and start their family together," say her rep.
Two weeks after she tied the knot on Valentine's Day, Lima had to deny pregnancy rumors after someone posted a blog on a fake Adriana Lima Myspace account.
At the time, a statement from the star read: "I'm not pregnant." Lima's publicist added: "The MySpace page is a fake. Marko and Adriana are very happy, but not with child. They plan on having a family one day in the future. But not now."
Well it looks like the time is now! Congrats to the couple! Can't wait to see her gorgeous baby. What do you think they should name the baby?
First Photo: Meet Adriana Lima's Daughter Valentina!
She's found success on the runway, but supermodel Adriana Lima says there's another career she finds even more satisfying: Motherhood.
"The best job in the world for me is being a mom," the Brazilian beauty, 28, tells PEOPLE. "I never thought I could love so much. I always thought, does unconditional love exist? Now I know it does because I feel it."
Lima, who welcomed daughter Valentina Lima Jaric Nov. 15, says becoming a parent has "really changed me completely. I am, in my head, more mature, more secure. And, you know, it changed completely the priorities in [my] life."
"You feel so strong," she adds. "It's such a wonderful feeling."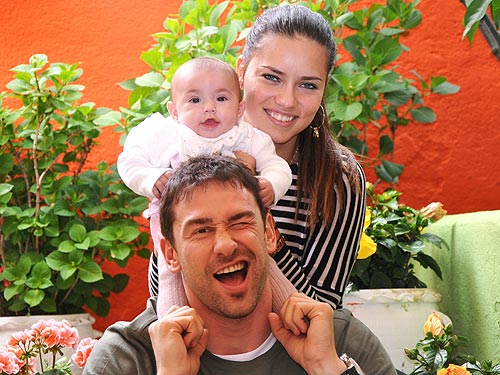 Ramon Gonzales
The Victoria's Secret model drew upon that strength when she was found to be suffering frompreeclampsia, necessitating two weeks of bed rest before the delivery of her daughter at only 34 weeks along.
Weighing in at just 4.4 lbs., Valentina was the "smallest [baby] in the whole hospital," Lima recalls. "I wish I had her at home but it wasn't possible in my case."
"As a parent you really want to give your best and you don't want [anything] to happen with the baby, so it was stressful," she says, although adding that a "great team of doctors" took care of her and husband Marko Jaric was "really supportive."
Jaric, 31, a former NBA player who is now with the Real Madrid team, is also basking in his new daddy duties. "I feel comfortable," he says. "[Adriana and I] feel so natural. We're really enjoying it. Everything is falling in the right place."
And while the new mom is enjoying her time with her daughter, she also recently headed back to work. Getting into pre-pregnancy shape again "wasn't easy," but with a strict diet and exercise regimen (with a former pro boxer!), Lima says she's back to modeling for Victoria's Secret.
And what are some of 5-month-old Valentina's latest milestones? In addition to sitting up, rolling and pushing over onto her stomach, "she has a personality," the proud mom says. "She's always smiling. It's amazing."