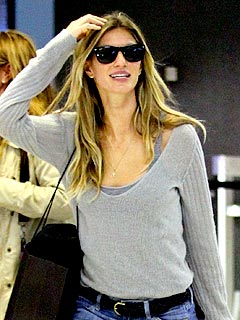 For Gisele Bündchen, becoming a parent has meant making certain adjustments.
"We really do love to travel, but being parents, we travel less now then we have in the past," Bündchen, 30, who welcomed baby Benjamin with husband Tom Brady in Dec. 2009, tells PEOPLE. (Tom also has a son Jack, with ex Bridget Moynahan.) "It's definitely more challenging traveling with a child."
And though her work as the world's top paid model and environmental activist does often require her to be away from home, "we are constantly coordinating our daily schedules to make sure we have some family time every day," she said at the reception for the Harvard Center for Global Health and the Environment's Global Environmental Citizen Award, where she was honored.
"There is nothing more rewarding then to come home and see them after a long day of work," she said. "As his mom, I think everything Benjamin does is cute."
What about when mom and dad need some alone time?
"Sometimes we have date nights, sometimes we have hikes together," Bündchen said of Brady, who is quarterback for the New England Patriots. "The most important thing, I think, is to find the time to be with each other. We cherish the time we have together."