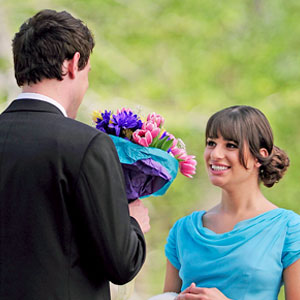 PacificCoastNews.com
You might think you know everything about Glee's New York episode because of your in-depth CIA-like analysis of the photo intelligence, but there are a few Big Apple episode details that only we can share!
Plus, what's to come for Elena and Damon on The Vampire Diaries? What can you expect from the finales of Chuckand Smallville? Why are True Blood andBurn Notice adding new characters? And what don't you know yet about Callie and Arizona's wedding on Grey's Anatomy?
Find out all that and more in this week's all-new TV spoiler chat!
Meghann in Alexandria, Va.: I hear Make It or Break It might be canceled. What's up with that?
All we can tell you is that so far is no news is good news. A rep for ABC Family says only, "There hasn't been a decision made either way. We are in the middle of all new episodes airing and the season two finale will be on May 23."
Karina: Modern Family?
Ariel Winter tells us, "Next season I think that Alex will become a little bit cooler—like maybe Alex getting into a little bit more mischievous stuff...[but] Alex will always be smart. Always, she will never not be smart." And she will always grind her jaw! "Exactly."
Cg in Arizona: You guys are doing great, but when is Kristin coming back?
Don't worry, guys, Kristin is coming back this summer. We promise, we miss her even more than you do!
thepostite: Any Glee scoop regarding Brittany/Santana? #brittana
Brittany (
Heather Morris
), either intentionally or stupidly, does something that really pisses Santana (
Naya Rivera
) off. Not the best news for Brittana fans, but keep the hope alive for just a few more episodes, mmmkay?
DeGleek: Saw that some amazing Finchel scenes were filmed in NYC. Anything you guys can tell us about that?
The best Finn-Rachel scenes, at least in our humble opinions, have not been photographed yet. That's right. The photos you've seen thus far? Not even the best that's yet to come!
phb34: Please tell us that Fuinn will start to unravel....need Finchel happiness again!
Unravel is the perfect word for what's about to happen to Quinn (
Dianna Agron
) and Finn (
Cory Monteith
). Of course, it won't unravel in a nice, straight line. More like a tangled web.
xcalilax: Any chance of some Glee scoop?
You know the gang is going to NYC for nationals, but now we're worried that someone
might
not make it to the show on time. Producers are casting for an actor to play a nice, slightly overweight security guard at a New York City theater. You know what guards do, don't you? They keep people out of theaters where they need to be singing!