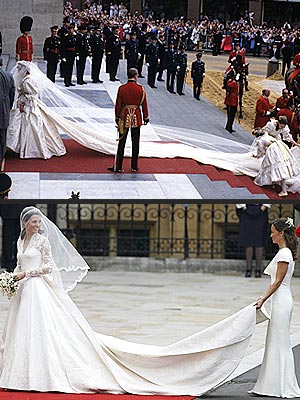 Since the day Prince William proposed to Kate Middleton with his late mother's sapphire engagement ring, comparisons to his parents' massive 1981 wedding were bound to be inevitable.

In some ways, the newlywed couple emulated Prince Charles and Princess Diana; for instance, byriding in the same carriage after exchanging vows and kissing on the same balcony. But in many ways, they made the ceremony their own. From asking for charitable donations instead of gifts to driving themselves in the 'getaway car,' the wedding was unmistakably William and Catherine.

One highly visible way the new princess distinguished herself? With a much smaller train on her Alexander McQueen gown.

Diana's Elizabeth Emanuel confection boasted a 25-foot train that famously took up most of the space in her carriage – and required two bridesmaids to maneuver. Kate's, on the other hand, was about one-third of the length at nearly nine feet, and moved easily with her as she proceeded down Westminster Abbey's long center aisle. Though the two dresses varied greatly, there's no doubt that they both were fit for a princess.